Quick, easy data capture
Mobile Data Collection
Easily collect information on the go from the comfort of your mobile device or tablet. QuickTapSurvey works with iPads, iPhones, and Android devices.
100% Data Coverage
Gather information anywhere, even if you don't have a reliable internet connection. Your data will sync automatically when you reconnect to the web.
Branding & Personalization
Use our offline questionnaire app to build beautifully branded surveys in minutes. No coding needed! Add your logo, include your brand colors, and more.
35+ Question Types
Easily collect data in different formats with a variety of question types, including sliding scales, matrix fields, multiple choice fields, and signature fields.
Skip Logic and Branching
Create seamless, customized online survey experiences for your users by showing or hiding questions depending on the specific conditions you set.
Fast & Accurate Input
Get the info you need quickly with surveys built for smooth data capture. Custom keyboards and shortcuts make data entry fast, easy, and more accurate.
Kiosk Features
Transform your Apple or Android tablet into a data kiosk while you're at events or out in the field. Set your surveys to auto-pilot, and easily track uptime.
Real-Time Survey Results
Analyze your survey responses as soon as they are collected. Easily generate PDF reports to share with others, or monitor satisfaction with NPS reporting.
Instant Email Notifications
Inform your team of new submissions or send confirmations to survey takers. Your customized emails will be sent automatically depending on the rules you set.
Trusted by over 180,000 users worldwide
Hundreds of businesses rely on QuickTapSurvey's flexible questionnaire tool to capture vital data quickly and securely.
Customer Stories

Intuitive data integrations
Automate your data capture by connecting your questionnaire surveys to apps like Salesforce, Zapier, and MailChimp. Send submitted information to your G Suite, add new contacts to your email lists, update your CRM with new leads, and much more.
Learn More
Easy ways to simplify your data collection
Research
Conduct research out in the field with easy-to-use questionnaire surveys, even if you're offline.
Customer Feedback
Monitor customer satisfaction no matter where you are, and enhance your products and services.
Lead Capture
Quickly capture leads at your event or trade show booth without an expensive lead retrieval unit.
Ready-made questionnaire templates
Jump in immediately with fully customizable survey templates built just for you.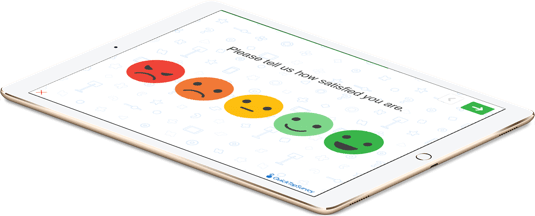 Need more information?
Get in touch with one of our Lead Capture Specialists today.
Fast-track your data collection.
See QuickTapSurvey's questionnaire surveys in action by starting a free trial. No credit card required.
Create My First Survey