Access a powerful data collection app.
Mobile Data Collection
Easily collect info on the go from the comfort of your mobile device. QuickTapSurvey works with both Apple and Android phones and tablets.
35+ Question Types
Use special field types like email capture, GPS location, and photo capture to quickly gather in-person data while you're out in the field.
Custom Branding
Use our offline data capture app to create professionally branded forms and surveys in minutes. Tweak colors, images, logos, and more.
100% Data Coverage
Capture data anywhere, even if you're offline. All the info you collect is safely stored in our data collection app until you're connected to the internet again.
Fast & Accurate Input
Get the data you need fast through a streamlined user experience. Custom keyboards and shortcuts make data entry quick, easy, and more accurate.
Kiosk Features
Turn your iPad or Android tablet into an interactive data collection kiosk while you're out and about. Set your surveys to auto-pilot, and easily track uptime.
Signature Capture
Save time (and a few trees) by using a signature capture field on your mobile surveys. Just have people sign with their finger directly on your device.
Email Alerts & Notifications
Keep form submitters or team members in the loop through automated email alerts and notifications that will send upon the conditions you set.
Enhance your data collection.
Join over 180,000 users who rely on QuickTapSurvey's offline data capture app for fast and easy mobile data collection.
Sign up today for access to our entire collection.
Explore Customer Stories

Easy-to-use data integrations
Automate countless tasks by connecting your forms and surveys to apps like Zapier, Salesforce, and MailChimp. Route info to your G Suite, update your CRM with new leads, feed new contacts into your email lists, and much more.
Learn More
Quick, intuitive offline data capture app
Lead Capture
Easily collect leads at your trade show or event booth without an expensive lead retrieval unit.
Research
Complete research out in the field with intuitive mobile surveys, even if you don't have internet.
Customer Feedback
Collect customer feedback no matter where you are, and improve your products and services.
Ready-to-go templates just for you
Hit the ground running with form and survey templates that have already been built for you.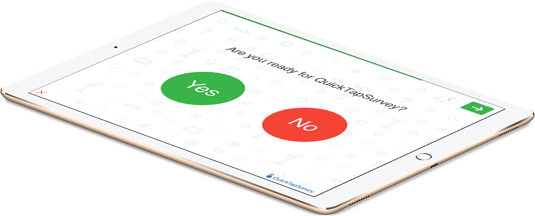 Need more information?
Get in touch with one of our Lead Capture Specialists today.
Take your data collection to the next level.
Take QuickTapSurvey's data collection app for a test drive by starting a free trial. No credit card required.
Create My First Survey