The seamless way to conduct evaluations online
Mobile Data Capture
Free yourself from your desk by pulling up surveys on your mobile device or tablet. Our assessment app works on iPhone, iPad, and Android devices.
100% Data Coverage
Conduct evaluations even if you don't have an internet connection. Your data will sync with our evaluation app automatically when you reconnect to the web.
Branding & Customization
Create beautifully branded assessment surveys in minutes without any coding knowledge. You can add your brand logo, colors, backgrounds, and more.
35+ Question Types
Customize the way you capture in-person data through a variety of field types, including signature capture, photo capture, email capture, and much more.
Fast & Accurate Input
Ensure quick and error-free data entry with forms built for mobile data capture. Custom keyboards and shortcuts make it easy to fill out forms on small screens.
Logic & Branching
Personalize assessment surveys to a person's responses by using conditional logic to show or hide questions based on how they answer certain questions.
Survey Scoring
Easily score assessments and evaluations by placing a value on each response. We'll automatically calculate each answer to give you an overall survey score.
Instant Email Notifications
Create customized emails that go out upon submission automatically to thank people for taking your survey and keep your team in the loop on new responses.
Reporting & Analytics
Quickly identify trends in the data you collect. Share these insights via PDF, Excel, or CSV reports that can be scheduled to go out upon the conditions you set.
Trusted by dozens of innovative businesses
Over 180,000 people use QuickTapSurvey's evaluation app to collect critical data for their organizations.
Sign up today for access to our entire collection.
Customer Stories

Easy, secure data automation
Integrate your evaluation surveys with hundreds of popular apps, including Zapier, MailChimp, and Salesforce. Easily update your CRM with new customer details, send employee info to your Google Suite, route new emails to your email marketing platform, and much more.
Learn More
A versatile assessment app
Employee Reviews
Conduct quarterly and annual reviews by dropping a link into an email and sending it to employees.
Course Evaluations
Get courses evaluated fast with surveys that students can easily complete on their phones or tablets.
Product Assessments
Use seamless, automated surveys to complete assessments of your products and business services.
Customizable survey templates
Get started quickly with a suite of ready-to-go templates already built for you.
Explore Templates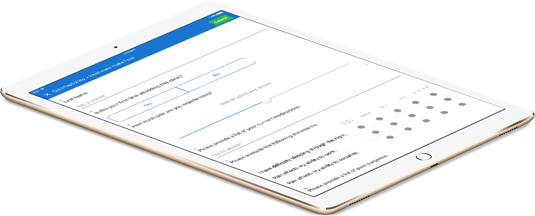 Need more information?
Get in touch with one of our Lead Capture Specialists today.
Complete assessments with confidence.
See QuickTapSurvey's evaluation app in action by starting a free trial. No credit card required.
Create My First Survey