Powerful tools for easy data capture
Intuitive Data Collection
Use our Android and iPad kiosk app to easily collect data at checkout, the front desk, or while you're away at events, conferences, and trade shows.
100% Data Coverage
Don't have an internet connection? No problem! Keep collecting info with your kiosk, even when you're offline. All data is stored until you reconnect to the web.
35+ Question Types
Easily capture in-person data with a variety of special field types, including email capture, photo capture, website URLs, and much more.
Branding & Design
Build beautifully branded surveys that only display one question at a time for fast, easy use. Add your logo, tweak colors, and upload custom background images.
Kiosk Uptime Reporting
Easily track the uptime and performance of all your active kiosk surveys at the same time. You'll get instant notifications if a kiosk stops working.
Fast & Accurate Input
Use custom keyboards and shortcuts to create a smooth data collection experience for users. Data entry will be faster, easier, and more accurate.
Signature Capture
Do away with paper. Easily collect signatures directly on your tablet with our Android and iPad kiosk survey app. All users need to do is sign with their finger.
Email Alerts & Notifications
Send automated email alerts and notifications internally or to the people that complete your kiosk survey. Emails will send depending on the conditions you set.
Scheduled Reports
Track responses by sending out a PDF report to your team on a daily, weekly, or monthly basis. Reports can be customized by user, satisfaction, or NPS scores.
See why QuickTapSurvey is the #1 rated kiosk survey app.
With QuickTapSurvey's iPad and Android kiosk app, Toronto Pearson International Airport was able to rapidly improve their security screening process through the collection of over 55,000 survey responses in just one year.
Sign up today for access to our entire collection.
Read the Full Story

Sync up with hundreds of apps.
Easily connect your kiosk surveys to apps like MailChimp, Zapier, and Salesforce for easy data management. Add new contacts to your email database, send text messages to survey takers, update your CRM with new lead information, and much more.
Learn More
Power up your data collection.
Events & Trade Shows
Ramp up your lead capture by setting up a kiosk survey at your event booth.
Small Business
Use a kiosk to collect customer feedback at your checkout counter or front desk.
Research
Set up kiosks in airport terminals and other locations to collect research data.
Get started right away.
Jump into our Android and iPad survey app immediately with templates already created for you.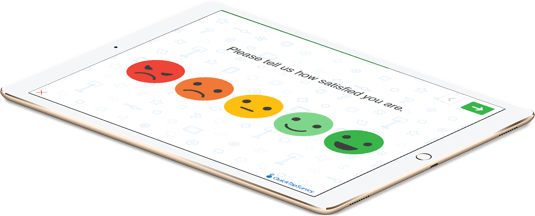 Need more information?
Get in touch with one of our Lead Capture Specialists today.
Create seamless kiosk surveys.
Take QuickTapSurvey's Android and iPad kiosk app for a test drive by starting a free trial. No credit card required.
Create My First Survey