NPS scoring made simple
Mobile Data Collection
Use your mobile device or tablet to collect feedback data no matter where you are. QuickTapSurvey works on all iOS and Android devices.
100% Data Coverage
Don't have Wi-Fi? No problem! Our NPS surveys work seamlessly offline. Your data will sync with your account as soon as you reconnect.
Branding & Customization
Set up beautifully branded surveys in minutes. No technical expertise needed! You can change background images, add your logo, and more.
Kiosk Features
Transform your tablet into a kiosk to let customers fill out surveys unsupervised. Instant alerts will notify you if problems pop up with performance.
NPS Calculations
Add Net Promoter Score fields to your mobile surveys to easily measure customer responses to a variety of questions via a 0-10 rating scale.
Instant Data Access
View customer feedback as soon as it's submitted. Instant graphical reports make it easy to see patterns and make smarter business decisions.
Auto-Reply Emails
Send automated confirmations to thank your customers for taking your survey and encourage them to leave a review on popular review sites.
Satisfaction Reporting
Use NPS reporting to gauge satisfaction and share a live pulse on your customers daily, weekly, or monthly depending on the conditions you set.
Feedback Management
Ensure the right person on your team addresses negative customer feedback immediately by sending real-time email notifications upon submission.
The #1 rated NPS survey app
Over 180,000 people use QuickTapSurvey to collect critical information for their businesses and delight their customers.
Sign up today for access to our entire collection.
Explore Customer Stories

Easy-to-use data integrations
Automate your data collection by connecting your NPS surveys to apps like MailChimp, Zapier, and Salesforce. Send new customer data to your CRM, update your email platform with new contacts, add data to spreadsheets, and much more.
Learn More
Measure customer satisfaction anywhere.
Museums & Galleries
Restaurants
Tourist Attractions
Healthcare Clinics
Retail
Ready-to-go survey templates
Hit the ground running with customizable NPS surveys already built for you.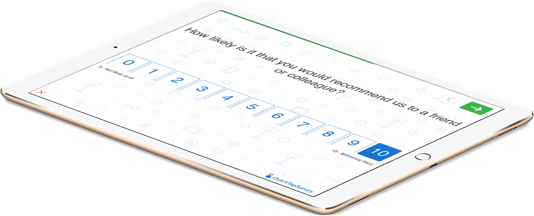 Need more information?
Get in touch with one of our Lead Capture Specialists today.
Create exceptional customer experiences.
See QuickTapSurvey's NPS survey app in action by starting a free trial. No credit card required.
Create My First Survey