Powerful tools for easy lead capture
Mobile Data Collection
Use our mobile contests and sweepstakes app to easily collect lead data no matter where you are. Works with iPad, iPhone, or Android tablets and devices.
Branding & Design
Add logos, change colors, customize background images, and more to create beautifully branded mobile surveys for giveaways and contests.
Offline Lead Capture
Spotty internet connection? No problem! Safely collect data offline without losing your info. No Wi-Fi needed! All data is stored in the app until you reconnect.
Scratch Card
Let potential leads participate in a scratch off or "swipe to reveal" game by allowing them to uncover one of up to eight prize images on a mobile device or tablet.
Instant Draw
Identify the winners of a contest or sweepstake automatically by selecting a survey response randomly and showing it on your screen.
Email Capture
Add an email field to your contest survey to capture emails for lead nurturing. Shortcut buttons and email validation make it easy to collect valid emails quickly.
Kiosk Features
Turn your tablet into an interactive kiosk at a conference or while you're out in the field. Set your survey to loop automatically, and easily track uptime and performance.
Lead Scoring
Automatically calculate a score for each sweepstake or contest lead you collect based on their responses. Each response is tallied to create an overall lead score.
Automated Email Follow-ups
Send customized follow-up emails to people that completed your survey. Thank them for participating in your contest, or notify them that they're a winner.
Trusted by 150,000 users worldwide
With QuickTapSurvey's sweepstakes and contests app, the Tennessee Titans decreased their post-event follow-up campaigns from 3 weeks to 24 hours and increased lead follow-up rates by 50%.
Sign up today for access to our entire collection.
Read the Full Story

Seamless data integrations.
Easily connect your surveys to apps like Zapier, Salesforce, and MailChimp for easy data transfer. Update your CRM with new lead information, add contacts to your email database, send text messages to participants, and much more.
Learn More
Enhance your lead capture anywhere.
Events & Conferences
Run a lead capture campaign at your next event and include a sweepstake or contest.
Small Business
Run a giveaway at your checkout counter or front desk to encourage signups and feedback.
Trade Show
Use a contest or giveaway to attract more people to your booth and collect more leads.
Ready-to-go survey templates
Get up and running quickly with online contest and sweepstakes templates already prebuilt for you.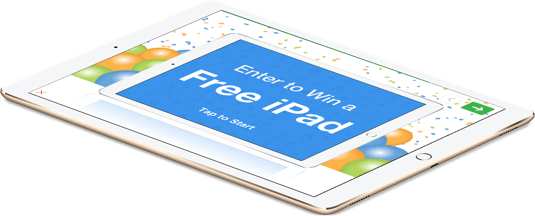 Need more information?
Get in touch with one of our Lead Capture Specialists today.
Run high-converting, app-based contests and giveaways.
Take a test drive of QuickTapSurvey's sweepstakes and contests app by starting a free trial. No credit card required.
Create My First Survey