Trusted by forward-thinking museums worldwide
Easy data collection for museums & galleries
Quick Data Capture
Collect data from visitors no matter where they are in your museum. QuickTapSurvey works seamlessly on all iOS and Android devices.
100% Data Coverage
Have unreliable WiFi? No problem! Easily use your satisfaction surveys offline. Your data will sync with your account when you reconnect.
Branding & Customization
Build professionally branded visitor satisfaction surveys that are easy for your users to fill out. No coding or technical knowledge required.
35+ Question Types
Collect feedback in a variety of formats by using different field types, including rating scales, email capture, NPS scoring, and much more.
Auto-Reply Emails
Send automated emails to thank your visitors for coming to your museum and encourage them to leave feedback on popular review sites.
Kiosk Features
Transform tablets into kiosk stations to let people complete visitor satisfaction surveys unattended. Instant notifications will alert you to issues.
International Language Support
Let visitors complete surveys in their own language. International keyboards make it easy for users to complete text-based survey questions.
Feedback Management
Use automated email alerts to notify team members of new submissions and ensure negative feedback is addressed as soon as possible.
Proven to improve visitor satisfaction
"QuickTapSurvey is an easy, affordable, and reliable solution for visitor surveys. It simplified the data collection process and was fun for volunteers to use."
Surale Phillips,
Arts Research Consultant,
Florida
Download Case Study
"QuickTapSurvey is an efficient and modern tool for survey visitors at the gallery. It eliminates the need for paper and web surveys while reducing our workload."
Keri Ryan,
Associate Director,
Art Gallery of Ontario
Download Case Study
Smart data automation
Connect your visitor satisfaction surveys to apps like MailChimp, Zapier, and Salesforce to easily manage visitor data. Add new visitor profiles to your CRM, update your email lists with new contacts, organize feedback in spreadsheets, and much more.
Learn More
Versatile mobile data capture
Feedback
Discover ways to improve your museum by asking visitors to rate their visit.
Research
Collect key insights on your visitors, including demographics and preferences.
Lead Capture
Capture emails on your feedback surveys for easy lead nurturing and follow-up.
Ready-to-go feedback templates
Create museum feedback surveys from scratch or get a headstart by customizing one of our pre-built templates.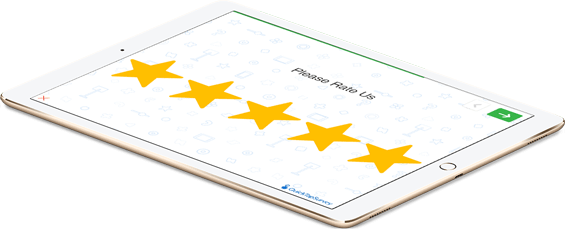 Delight your visitors.
See QuickTapSurvey's visitor satisfaction surveys in action by starting a free trial.
Create My First Survey