Overview
Do you need a better way to measure the satisfaction of visitors to your attraction?
Hearing from the customers who visit your attraction can be crucial to achieving success. Whether you are operating a museum, art gallery, park, aquarium, or recreational center, visitor satisfaction is an essential factor in the continued success of any tourist attraction. If your visitor satisfaction rate is high, your visitors will return and will recommend your attraction to friends and family. If visitors are unhappy with one or more aspects of their visit to your site, their total satisfaction will be affected. In order to get a thorough understanding of visitor satisfaction, it is important to take a customer satisfaction reading that incorporates questions regarding both the attraction itself and the services and amenities available on-site.
If you're looking for a tool to help you gather information about your visitors' needs and how well your organization is currently meeting those needs, look no further than QuickTapSurvey's fast and easy visitor satisfaction survey application. QuickTapSurvey can help you get direct feedback from your visitors. With over 35 question types, you can find out exactly what you need to know from visitors. Responses can be collected offline without an internet connection, which makes our application adaptable to any location or situation.
Perfect For:
Museums, Galleries, Attractions
Time to Complete:
5 minutes
Device Type:
Android Tablet or iPad
Survey Features You'll Love:
Convert Your Tablet into a Feedback Kiosk
Place your tablet in a kiosk enclosure to collect visitor feedback and satisfaction measurement data.
Skip Logic (Question Branching)
Depending on the response a person submits, you can choose which questions to display. For example, if your visitor had a positive experience, you can prompt them to join your mailing list. If your visitor had a negative experience, you can branch the survey to ask how their experience could have been improved.
Satisfaction Question Type
The satisfaction question type asks your visitor to select how happy they are with a statement or scenario. This question type uses smileys that range from very unsatisfied to very satisfied, and you can select the order and number of smileys you use in this question.
Process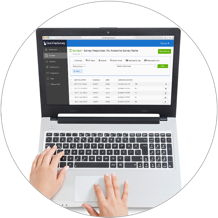 1) Create Your First Survey
Sign up online for a QuickTapSurvey plan (we offer Pro and Premium level plans and you can compare plan features on our website). Design and build your visitor satisfaction survey using one of our templates or start from scratch using our simple and quick survey builder tool. You can build your own survey in minutes!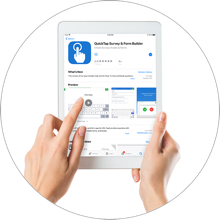 2) Get the App
Download the QuickTapSurvey application to your mobile device or tablet - we support android or iOs devices.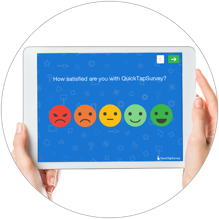 3) Gather Visitor Feedback
Sync your visitor satisfaction survey to your device and start collecting visitor responses. You can even place your tablet in a kiosk for unattended response collection. No internet connection is required.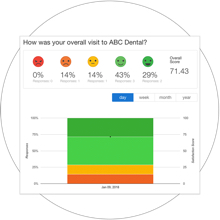 4) View and Analyze Your Visitor Satisfaction Data
Sync your attraction visitor responses to your QuickTapSurvey account, download your data or generate useful reports with your data!
Insight
Attraction Visitor Survey Insights:
Access Powerful Reporting Features to Analyze and Take Action on Your Visitor Satisfaction Data
QuickTapSurvey makes it easy to view responses and take action on your data. You can view your response data in one centralized location and download your responses in a variety of XLS and CSV formats for further review.
You can also easily produce a number of specialized reports, including an Analytics report, an Active Kiosk report, NPS reports, and Satisfaction reports. Export professional PDF reports for sharing and discussion.
Types of Visitor Survey Reports
Satisfaction
Hourly Satisfaction
Responses by User
Responses by Hour
NPS
Hourly NPS
Analytics
PDF Analytics
Active Kiosks
Find out more about what features are available with which plan on our compare plans page.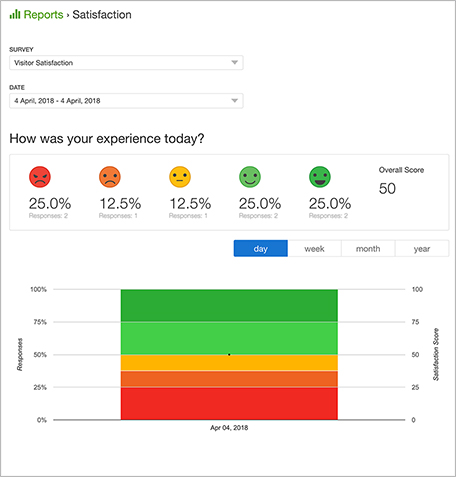 A Satisfaction Report example for this survey template