Trusted by service-focused restaurants worldwide
Restaurant feedback made simple
Quick Data Capture
Let guests easily complete a restaurant survey form from the comfort of their mobile device or tablet. QuickTapSurvey works on all iOS and Android devices.
100% Data Coverage
Have spotty internet? No problem! Our restaurant survey app works offline seamlessly so you can continue capturing feedback data without missing a beat.
Branding & Personalization
Create beautiful surveys in minutes that match your restaurant's branding. Add your logo, include your brand colors, change backgrounds, and much more.
35+ Question Types
Customize the way you collect feedback through a variety of field types, including email capture, telephone number, sliding scales, star ratings, and text input.
Auto-Reply Emails
The little things matter. Thank customers and guests for completing your restaurant feedback survey with a personalized email as soon as they click submit.
Easy Kiosk Setup
Transform tablets into kiosks to collect feedback at tables or checkout. Your surveys will loop automatically and send alerts if there are issues with performance.
Instant Data Access
Have tables or restrooms that aren't being cleaned properly? View feedback as soon as it's submitted so you can take immediate action and improve your services.
Satisfaction Reporting
Keep tabs on your customer feedback with daily, weekly, and monthly satisfaction reports that you can easily share with your staff members and executive team.
Feedback Management
Ensure negative feedback gets addressed immediately by sending out instant email notifications to employees and managers as soon as a survey is submitted.
Proven to enhance customer satisfaction
"QuickTapSurvey is a quick and easy survey tool that captures the sentiment of our customers and helps us react to it. Customers are keen to jump on it."
Ian Paech
Owner, Evolution Food Co. Inc.
Download Case Study
"QuickTapSurvey is easy to use, looks great, and does a stellar job of attracting customers to leave their email. It also has awesome capabilities for on-going product testing."
Megan Chan
Co-Founder, Kanga
Download Case Study
Seamless data automation
Say goodbye to paperwork and manual data entry. With our restaurant survey app, you can connect your surveys to hundreds of applications like Zapier, Salesforce, and MailChimp. Easily add customer emails to your email platform, update your CRM with new details, organize feedback data in your G Suite, and much more.
Learn More
Improve your restaurant from top to bottom.
Food Quality
See what guests think of your food, and collect ideas for new menu items.
Service Experience
Ensure customer needs are met quickly and issues are handled appropriately.
Atmosphere & Ambience
Gauge whether customers feel welcome and comfortable in your restaurant.
Delectable survey templates
Easily create your own restaurant survey form from scratch or customize one of our pre-built templates to get started.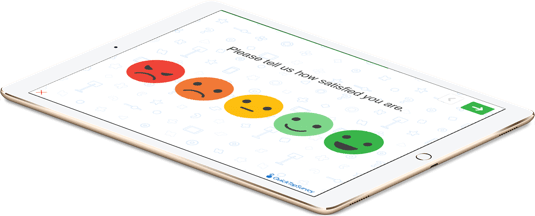 Delight your customers with excellent service.
See QuickTapSurvey's restaurant survey app in action by starting a free trial. No credit card required.
Create My First Survey