Trusted by innovative companies worldwide
Exxon
American Express
Disney
McDonalds
Nike
BMW
H&M
Infusionsoft lead capture made easy
Infusionsoft Integration
Use our Infusionsoft survey integration to export leads to your account, include opt-in options for email campaigns, and more.
Mobile Data Capture
Easily collect leads for Infusionsoft on your mobile phone or tablet. QuickTapSurvey works on all iOS and Android devices.
Offline Lead Collection
Capture lead data even if you're offline. Your information will be passed to Infusionsoft as soon as you reconnect to the web.
35+ Question Types
Customize the way you collect leads by using a variety of field types, including GPS location, email capture, ratings, and more.
Branding & Personalization
Brand and customize your surveys without needing to know how to code. Add your logo, include your brand colors, and more.
Auto-Reply Emails
Optimize your lead nurture by sending out personalized email follow-ups to everyone that completes your lead capture surveys.
Lead Scoring
Don't waste time on contacts that won't bear fruit. Pinpoint quality leads by assigning different scores to each survey response.
Sweepstake Tools
Turn your Infusionsoft lead capture surveys into contests, sweepstakes, or giveaways with scratch card, instant draw, and more.
Kiosk Features
Set up automated kiosks at events to easily collect leads at your booth. Instant notifications will keep you up-to-date on uptime.
Streamline your marketing efforts.
Alcatel-Lucent Enterprise used QuickTapSurvey to reduce their lead collection process from 3 weeks to only a few days.
Read the Full Story

Collect Infusionsoft leads anywhere.
Events & Conferences
Use mobile surveys at your next event to avoid expensive lead retrieval units and scanners.
Small Business
Use a tablet as a kiosk at your checkout counter or front desk to capture data from customers.
Trade Shows
Attract more visitors to your booth by using your surveys to run a contest or giveaway campaign.
Customizable lead capture survey templates
Build your surveys from scratch in minutes, or get started immediately with a prebuilt template.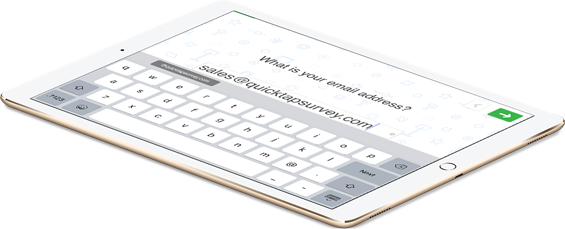 Take your Infusionsoft lead capture to the next level.
See QuickTapSurvey's Infusionsoft survey integration in action by starting a free trial. No credit card needed.
Create My First Survey