Overview
Do you need an easy and insightful way to gather patient feedback at your optometry clinic?
If you want to improve your practice and increase your business, you must gather customer feedback survey data from your patients.
QuickTapSurvey can help you collect feedback and analyze your data with beautiful surveys and robust analytics and reporting tools. Get started with your very own patient feedback survey in minutes!
Perfect For:
Optometrists, optometry clinics
Time to Complete:
5 minutes
Device Type:
Android Tablet or iPad
Survey Features You'll Love:
Optometrist Survey Branding
Do you want to match your survey to your brand? Our survey builder tool allows you to upload a custom logo, replace the survey background, and customize your survey button and font colours.
Turn a Tablet into a Kiosk for Unattended Collection
Convert your tablet into a kiosk by mounting your tablet in a kiosk enclosure. This solution works well for unattended data collection.
Generate Reports
Take advantage of our powerful reporting and analytics tools to view your data and take action to improve your practice.
Survey Branching
Depending on the feedback your patients have provided you can select which questions to show them next in the survey.
Automated Emailing
Immediately send a response by email to your patients once they've submitted their contact information. Customize your email content and layout.
Process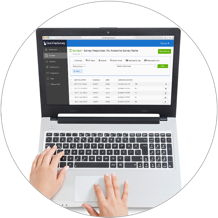 1) Create the Patient Survey
Sign up online and create your patient satisfaction survey using our survey builder. use this template as a starting point or build your own in minutes.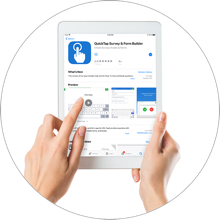 2) Download the QuickTapSurvey App
Download the QuickTapSurvey app on your tablet from the App Store or Play Store. You're ready to start collecting data once you've synced your survey to the device.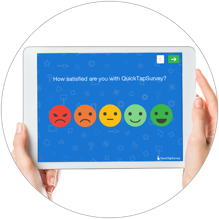 3) Gather Patient Feedback
Gather patient feedback from patients on your tablet. You can even place your tablet in a kiosk if you'd like to collect feedback unattended.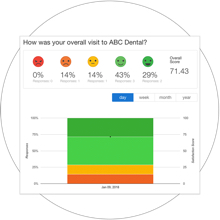 4) View and Act on Your Data
Review your feedback data, export it in your preferred format and visualize the data in generated reports.
Insight
Patient Survey Insights:
Are you ready to supercharge patient satisfaction? QuickTapSurvey's reporting and analytics features can help you take your optometry practice to the next level!
We make it easy to understand and benefit from your survey data, with many useful reporting and analytics tools available through the QuickTapSurvey app.
Review and assess the data you've collected in one place, and download it in a variety of formats.
Generate different kinds of reports, including an Analytics report, an Active Kiosk report, NPS reports, and Satisfaction reports.
Types of Reports
Satisfaction
Hourly Satisfaction
Responses by User
Responses by Hour
NPS
Hourly NPS
Analytics
PDF Analytics
Active Kiosks
Find out more about what features are available with which plan on our compare plans page.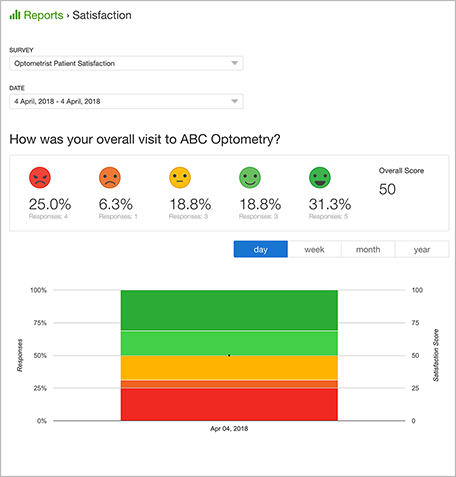 A Satisfaction Report example for this survey template